The DEHU
8/2/2018 (Permalink)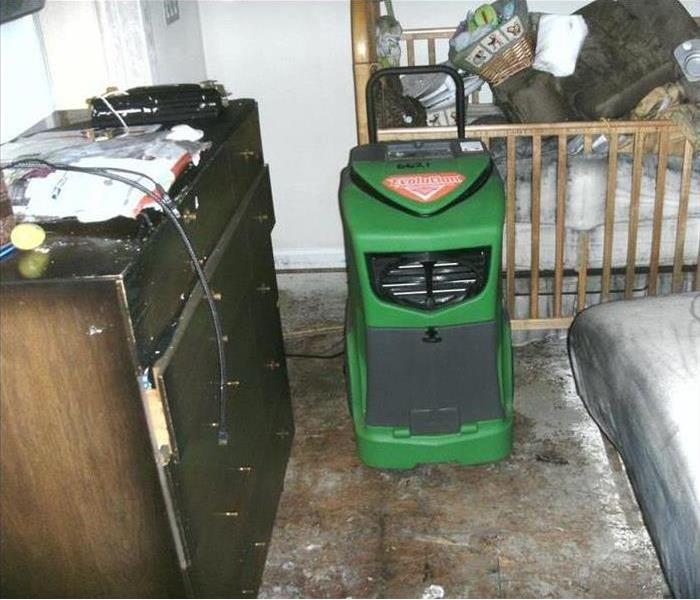 Welcome back to the SERVPRO Benicia/ Martinez/SE Vallejo blog! Today we will be talking about a piece of equipment commonly used when treating water damaged areas.
Water damage can cause a large number of possible. Water intrudes into areas where it will attack materials or systems by destructive processes such as humidity, rotting of wood, mold growth, rusting of steel, de-laminating of materials such as plywood, and many others.
One piece of equipment used by SERVPRO when treating a water damaged area is a DEHU , short for Dehumidifier. Dehumidifiers reduce humidity levels, making your home less likely to produce allergens such as dust mites, mold, and mildew. When the air in your home is more humid, the A/C must do the function of cooling the air and removing moisture, which means it has to work harder. There are 3 types of DEHUs that we here at SERVPRO Benicia/ Martinez/SE Vallejo normally use.
2000 LGR - This is the largest DEHU used. Normally used in larger spaces such as a garages and living rooms.
EVO LGR - A bit smaller than the 2000 LGR. Ideal for smaller spaced such as bedrooms and kitchens.
Drizair 1200 - also known as the conventional DEHU. This DEHU does not have a heater unlike the larger ones and is commonly used in bathrooms and closets.
In the event your home is ever affected by water damage whether it be a major flood or a small leak, we have the technicians and equipment to make it Like it Never Even Happened. So remember, SERVPRO is the way to go!