Fire Safety Tips
8/2/2018 (Permalink)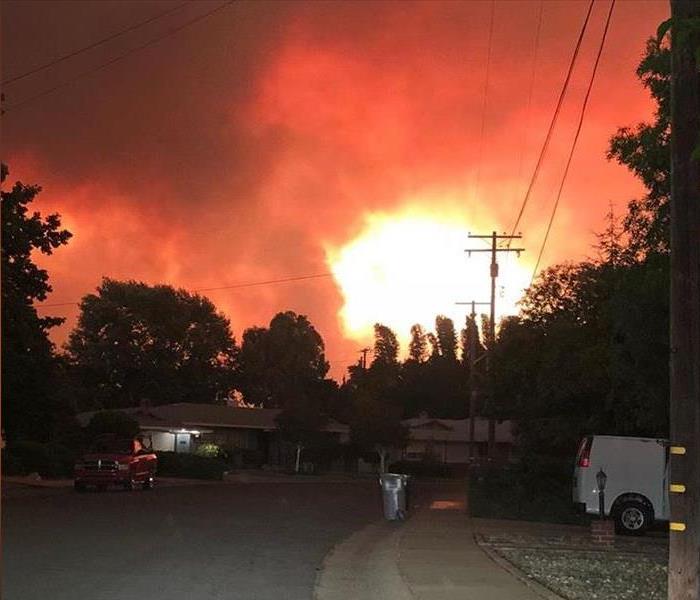 With all the wild fires California has had this year and continues to have, we here at SERVPRO Benicia/Martinez/SE Vallejo would like to offer some tips on how to keep safe from fires should it ever occur in your home, business, or area.
Keeping Safe in Your House or Job
You should always react as soon as you hear your smoke alarm goes off due to a fire. Quickly notify everyone in your home or job building and get out. Don't worry about grabbing any items such as valuables or important possessions, materials are replaceable, a life is not. Make sure everyone gets out safely. If possible, safely exit through doors, if the doors are hot, try to escape out of a window and be careful! Protect yourself from smoke inhalation. Many of us think running to an exit is the best thing to do but crouching or crawling to a safe exit is highly recommended. Inhaling smoke can cause you to become disoriented and could even make you unconscious. If you have time, you can also place a shirt or wet rag over your nose or mouth to help filter the toxins in the smoke before you get out. Stop, drop, and roll if your clothes catch fire. Once you are all out, call 911. If you can't get out, call 911 if a phone is accessible to you or yell for help out of a window near you. Go into the safest room around you while you wait for help. Ward off smoke by closing the door and sealing all cracks and vents with cloth or tape. Most importantly, remain calm and try not to panic.
Keeping Safe from Wildfires in Your Area
If advised to evacuate, do so immediately! Wear protective clothing if you have time to change into some. Avoid wearing synthetic fibers, they can melt and stick to skin causing severe burns. Lock your home and close all windows if possible to avoid smoke damaging the inside of your home. Make sure to let someone know that you left and where you will be going. Choose a safe route away from fire hazards. Be cautious of the changes in speed and direction of fire and smoke.
Whether it is smoke or fire that damages your home and the contents inside, SERVPRO is here to help!